Wriggle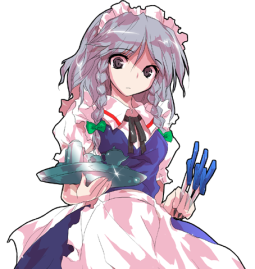 Sakuya
So, I have begun collecting Wriggle, I have 25 of her.






I also have 23 Sakuya.
My premium figure list thus far:

Gym Uniform Mima ~ Jam ~ Sailor Medicine ~ Gym Uniform Sakuya ~ Mii ~ Bunny Haruhi ~ Maid Mikuru ~ Crying Nurse Sakuya ~ Golgo 13 Reisen ~ Cenobite Sakuya

Last night i traded Sakuya-sensei for Cenobite Sakuya and a drawing of Sakuya riding a goomba.
I have decided that when I trade in my 100 Sakuya for 1 rare, custom Sakuya it will be called Goomba Knight Sakuya.