Today's lunch was had at the franchise of Takara Sushi just north of Yonge and St. Claire.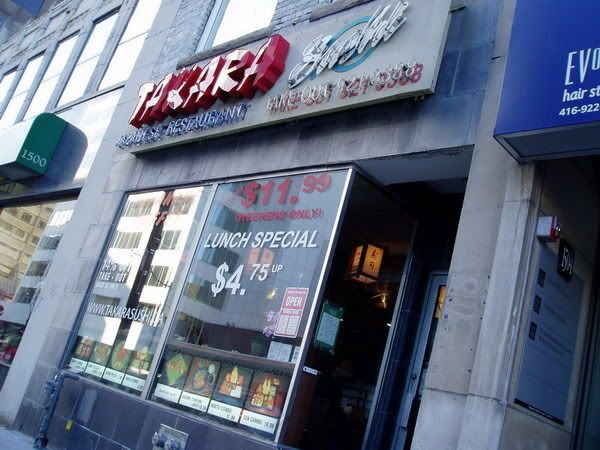 If the bright red sign hanging over the front bay window isn't an indication that you are in for a colourful meal then please step inside. The place was packed this Friday lunchtime and filled with sounds of cooking, talk and laughter. Meetings taking place, friends out for a bite and lonely food reviewers cluttered around the small, square, dark wood tables. I was led past the busy sushi assembly bar, where the chefs sweated under a time crunch, to my intimate, two seat corner and fit myself against the wall to observe the comings and goings of the medium sized restaurant. The menu was placed delicately in front of me and I automatically began scanning for cheap foods. Now, this is by no means a cheap restaurant, but they did offer some good looking lunch specials for as low as five dollars. I chose the Nami lunch special for $5.99 and duly ordered. She left to process my order and to fetch the complimentary loose-leaf green tea as I checked my morning's messages and ripped open my chopstick wrapper to make sure the chopsticks were in good condition. They use a good brand of disposable chopsticks and so I was not surprised to find they were fine. About five seconds after this the crumpled wrapper was scooped from the table with a very slight bow, which I appreciated very much, and was left for a short while to enjoy my tea and soak up the decor.
The decor is something they did not skimp on, large rectangular mirrors line one wall, japanese paper-style lanters hung over the booths with frenetic hiragana splashed across the panels, track and embedded lighting is also utilized, wooden dividers painted and moulded to look like shinto panels were used to break up the space and they even had a tacky little christmas tree with snowmen surrounding it amid some japanese artifacts and flowers. It is a warming place, to be sure.
My food arrived quickly and I was presented with a bow and a segmented, wooden bento box with Teppenyaki chicken (I think,) on a bed of long-cut veggies and sprouts, three large chunks of fried, soft tofu, three small vegetable rolls, a green salad, the obligatory short-grain white rice all placed around the bright green of a generous portion of wasabi. I have no complaints for it. The sushi was simple and expertly rolled, the chicken was savoury and delicious, the tofu (which I normally dislike) was good!
4/5 steaming bowls! A calming lunch-time experience for a hectic work day. I recommend the Nami, Kisho and their advertised $5 Teriyaki chicken bento. Arigato!